PAPER SHREDDER TROUBLESHOOTING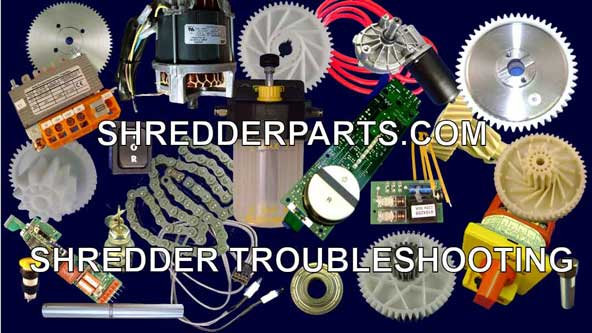 TROUBLE SHOOT YOUR PAPER SHREDDER
 TAKE CARE OF YOUR SHREDDER
Secure document shredding depends on the condition of your paper shredder. Constant paper jams or lack of maintenance decreases the life expectancy very dramatically. Proper care, upkeep and timely repair of your shredding machine is the key to most problems.
BASIC PAPER SHREDDER REPAIR AND TROUBLESHOOTING TIPS
These general tips are for a variety of different brands and models of paper shredders. All of the tips may not necessarily apply your particular paper shredding machine.
Because document destruction is so important, the shredder should be in top working condition.
IF SHREDDER IS NOT WORKING AT ALL:
The basket, bin or bag may be full and needs to be emptied.
If the paper shredder has been running continuously, a lot of shredders have a thermal overload protector that shuts the motor off if it overheats. This is located usually either on top, side, or in back of the shredder.
Turn the shredder off for 30 minutes and try again.
Make sure that the shredder is plugged in at the wall and also in back of the machine (if applicable).
If the shredder is a basket type, make sure that it fits securely on top of the basket.
If the shredder is a cabinet type, make sure that the bin drawer is pushed all the way in, or that the door is securely shut.
Make sure that the unit is turned on.
IF SHREDDER RUNS SLOW OR SHREDS FEWER PAGES THAN NORMAL:
Check to see if there is any compacted paper in unit.
Lubricate the blades if needed as directed by the owner's manual.
IF SHREDDER IS JAMMED:
Move or press "reverse" switch to reverse the cutting blades which will back the paper out.
Move or press "forward" switch to resume paper feed. A combination of forward and reverse may be needed to clean the paper out.
If that clears the paper out, lubricate the blades if needed as directed by the owner's manual.
If paper jams are the frequent cause of your breakdown, you should consider getting a

new shredder

that will shred more capacity.